Blemish / Open Box - 41- Inch Loop Resistance Bands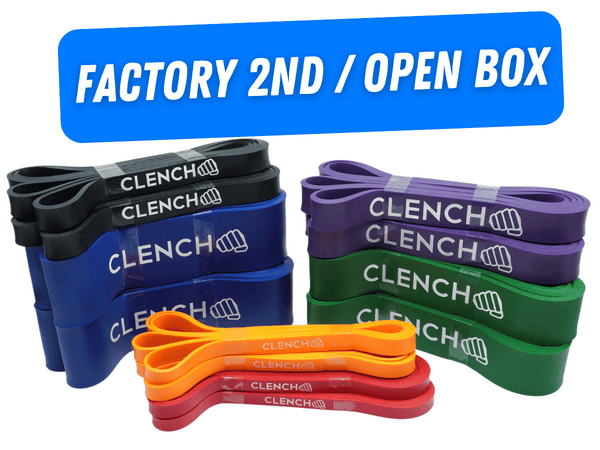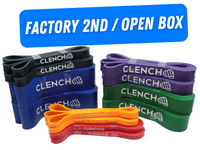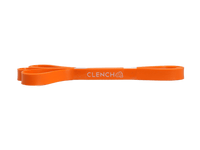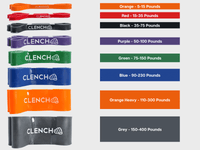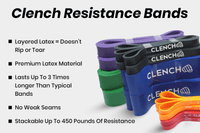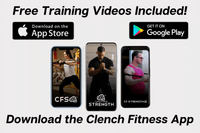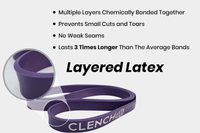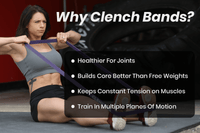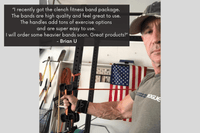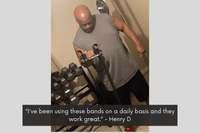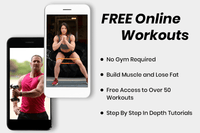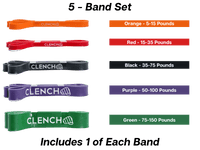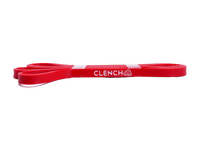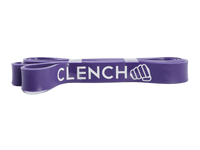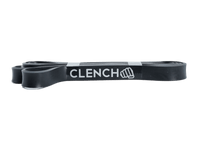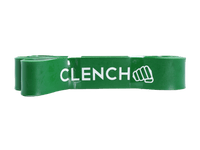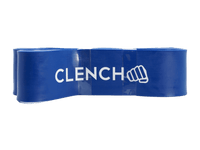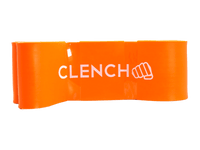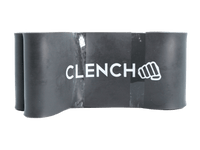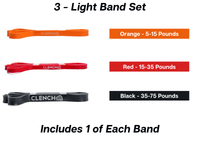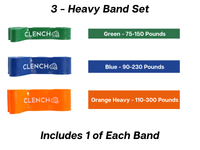 Blemish / Open Box - 41- Inch Loop Resistance Bands
This listing is for a factory second, cosmetically blemished, or open-box resistance bands. 
These parts may not be in original packaging and may contain cosmetic or aesthetic defects that do not meet our typical standards.
Defects do not affect function or performance of item. 
All sales are final.  No Refunds, No Returns, No Exchanges, No Warranty, No Discount Codes.
---
What's in the box?
What's in the box?
---
---
Clench Fitness
vs
VS
Other Brands
CLENCH FITNESS
VS
OTHER BRANDS
Build Muscle Mass

Lose Fat

Build Strength

Low Impact On Joints

Increased Core Strength

Progressive Resistance

Compact and Portable

Multi Layered Bands

No Weak Seams

Premium Latex
---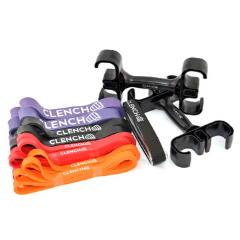 So far these bands are the best I've ever owned. I've bought several different sets of bands over the years and all of them have snapped after just months of use (full disclosure — I'm hard on my bands because I use them to replace heavy machine-based exercises usually performed in a gym). So far, while I've only been using them for a few weeks, these clench bands seem like they might be the last bands I ever need to buy. They aren't showing any signs of wear and tear despite my heavy use, and their unique construction suggests they won't succumb to the usual minor nicks and scrapes that ultimately lead to the destruction of cheaper bands. Well worth the money!
Premium Resistance Bands
Premium Resistance Bands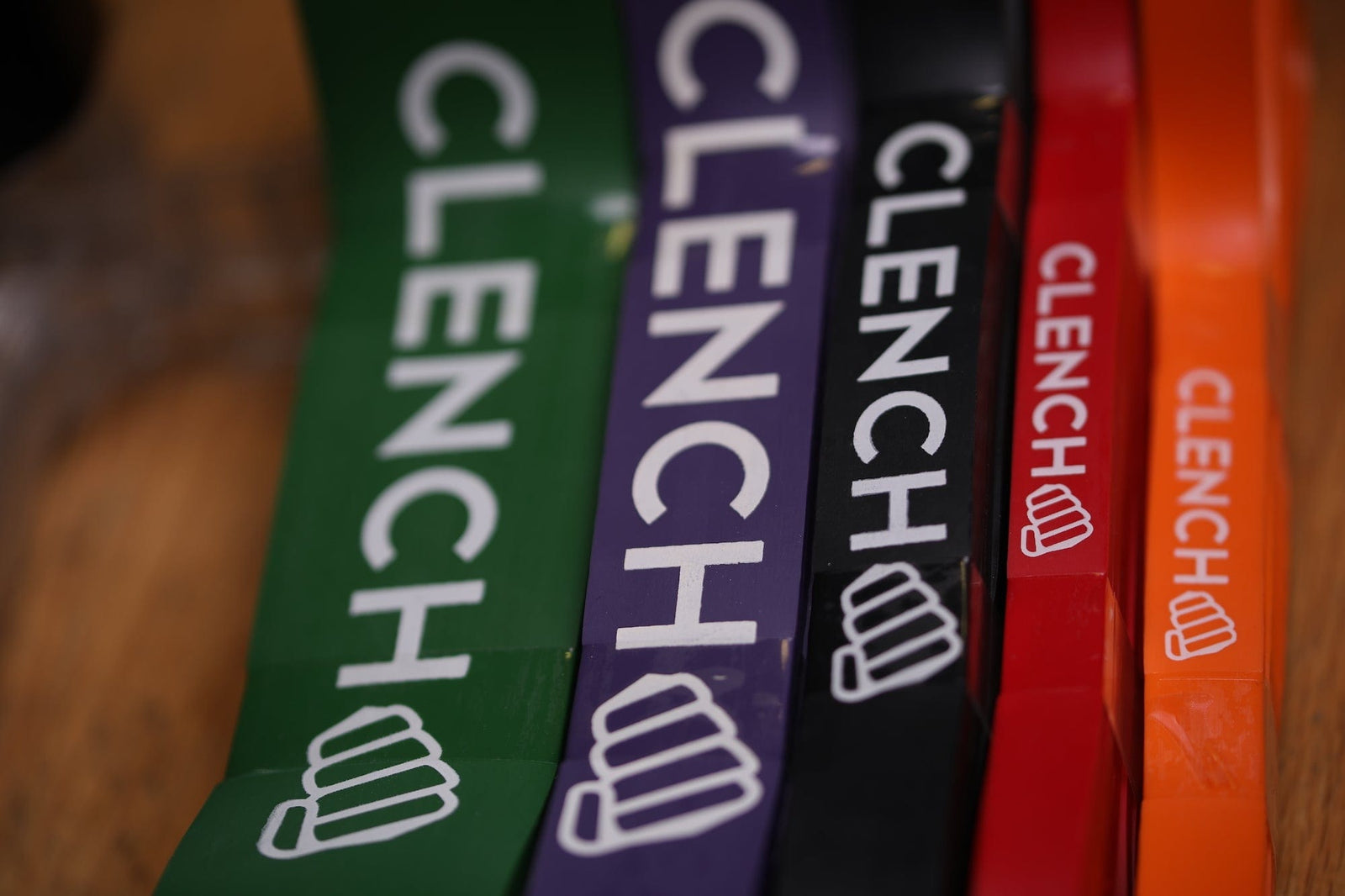 Manufactured using the highest quality latex and a cutting edge layering process that incorporates a latex weld to ensure these bands last longer than anything on the market. We back this up with a full 1 year warranty. (Made in Malaysia)
---
Orange Band (5-15 lbs)
Our lowest resistance bands. Perfect for warm-ups, flexibility, core stability, speed and agility training. They are also popular with plyometric training and physical therapy. These low resistance bands are small but tough and made to take a beating. (sold individually)
Length: 41"

Width: 1/2"

Thick: 3/32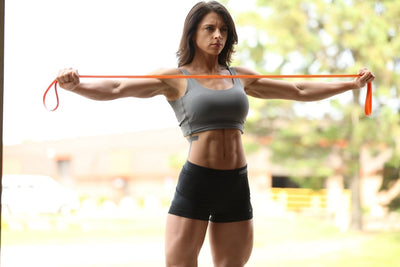 Red Band (15-35 lbs)
This is a workout favorite. A little more resistance to add to your various stability and powerlifting routines. Great shoulder joint exercises, ab exercises, biceps, and other upper body strength exercises. Lightweight and compact so you can take the workout anywhere. (sold individually)
Length: 41"

Width: 1/2"

Thick: 3/16"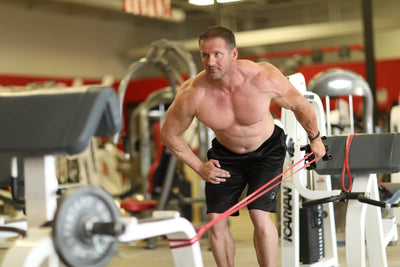 Black Band (35-75 lbs)
Great for bench movements, shoulder traction, and higher resistance mobility training (chest presses, back exercises, triceps, shoulders) lower body exercises (glutes, hamstrings, quads, and calves). (sold individually)
Length: 41"

Width: 13/16"

Thick: 3/16"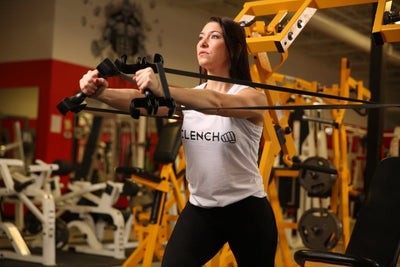 Purple Band (50-100 lbs)
These are perfect for speed training, assisted pull-ups, deadlifts, squats, shrugs, and presses. These bands are for high-performance athletes and fitness regulars. (sold individually)
Length: 41"

Width: 1-1/8"

Thick: 3/16"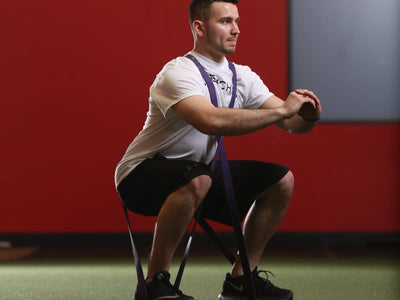 Green Band (75-150 lbs)
These bands are great for anyone who needs higher resistance for deadlifts, squats, or bench press. They also work well for pull-up assistance and athletic performance work. (sold individually)
Length: 41"

Width: 1 3/4"

Thick: 3/16"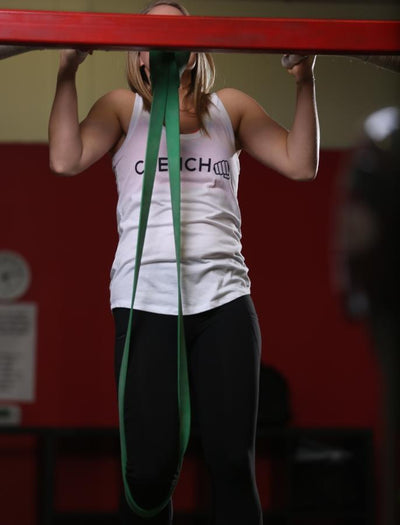 Blue Band (90-230 lbs)
Excellent quality heavy band for advanced athletes. They provide serious resistance and are commonly used for powerlifting exercises like bench press, squats, and deadlifts. They also work well for speed and agility training on high performance athletes. (sold individually)
Length: 41"

Width: 2 1/2"

Thick: 3/16"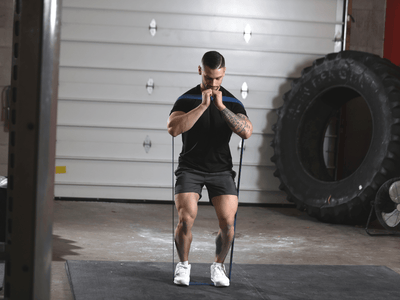 Orange Heavy Band (110-330 lbs)
High resistance band for elite lifters. These work great for high level athletic training, powerlifting, and strongman exercises. Mostly used for lower body training. (sold individually)
Length: 41"

Width: 3 1/4"

Thick: 3/16"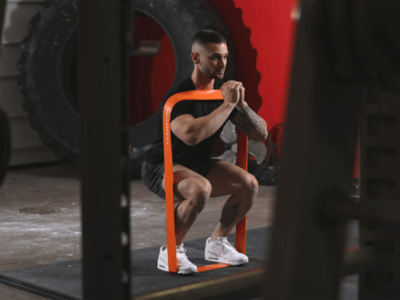 Grey Band (150-400 lbs)
This heavy resistance band is primarily used for lower body training. They work great for advanced strength training, including powerlifting and strongman exercises. (sold individually)
Length: 41"

Width: 4"

Thick: 3/16"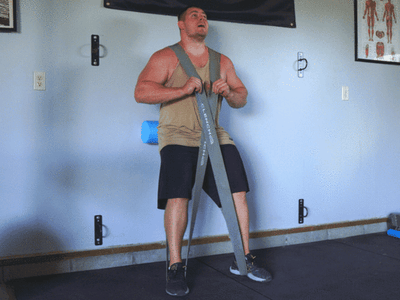 ---
---
---
---