Clench Band Handle
More versatility than any other resistance band handle on the market. You can do exercises with this handle that simply cannot be done with other resistance band attachments. Allows for quick and easy attachment / detachment of one or multiple bands so you have no problem getting the right resistance for your exercise. Compatible with most loop style resistance bands.
1 year warranty on all resistance bands and accessories. Cover any defects in materials or workmanship. Just send it back and we'll send you a replacement.
Fast and Free USA Shipping

Free 2-3 day shipping on all USA orders over $75. Tracking and insurance included.
If you're not satisfied with your purchase, just let us know and we'll send you a free return label to ship it back for a full refund.

(International customers are responsible for return shipping costs.)
---
---
---
Free Access To Workouts And How-to Videos
---
---
Three Unique Attachment Points
Hundreds of exercise options. Quick and easy to change resistance.
Ergonomically Designed
Wide handle is easy to grip and keeps bands off your skin during exercise.
Engineered To Take A Beating
Constructed from an extremely durable polymer that's tested to withstand 150 lbs of resistance for more than 100,000 repetitions.
The Clench Handle has been a hand saver for me. I love using bands but my hands have osteoarthritis and have endured some surgeries. Even with gloves the pain was just too much when using heavier bands. I can now perform all my exercises with much better form and without pain. Thanks for a fantastic product!
---
Why Should I Train With Bands?
Low Impact On Joints
This makes bands great for rehab, mobility, power, and athletic performance exercises.
Variable Resistance
Resistance increases as bands are stretched. Muscles will often receive greatest resistance during the strongest point in the range of motion. Another reason why these are great for power and athletic exercises.
Increased Core And Stabilizer Muscle Activation
This is due to constant resistance from band tension (free weights do not provide constant resistance). Bands can help you develop stability, increase strength, and decrease the risk of developing muscular imbalances.
Portability
Bands are lightweight, compact, and you can use them virtually anywhere. You can carry a full body workout worth of bands easily in your gym bag, backpack, or suitcase.
Versatility
Bands can be used for a multitude of different purposes and offer more exercise freedom because you're not relying on gravity to create resistance.
---
Get Stronger And Build Muscle
Hundreds of exercise options available
Burn Fat With Endless Cardio Routines
No more boring cardio machines
Increase Core Stability And Balance
Fix posture and muscle imbalances with functional exercises
Improve Flexibility And Mobility
Perform stretching and warm up exercises that prevent injuries and reduce joint pain
Maximize Athletic Performance
Increase your speed, agility, and quickness with progressive resistance
---
Customer Reviews
Write a Review
Ask a Question
Filter Reviews:
bands
handles
resistance bands
04/03/2020
Olivia H.
United States
The ABSOLUTELY BEST
MAKES RESISTANCE BANDS SO MUCH EASIER AND BETTER
03/29/2020
Marcel Davis Sr.
United States
Great product to use
I didn't like the 50 - 120 lb bands for these handles but the handles were great.
02/21/2020
MILAN T.
Atlanta, Georgia, United States
Unmatched comfort and quality.
The Clench Fitness handles are a game-changer for resistance band training. The handles give you the balance and grip that are usually missing from just using bands alone. You get a feel that is closer to traditional dumbbells while also getting the benefit of constant tension from the bands. I originally purchased them to use with my kids, but I've found that I love using them for my own training as well.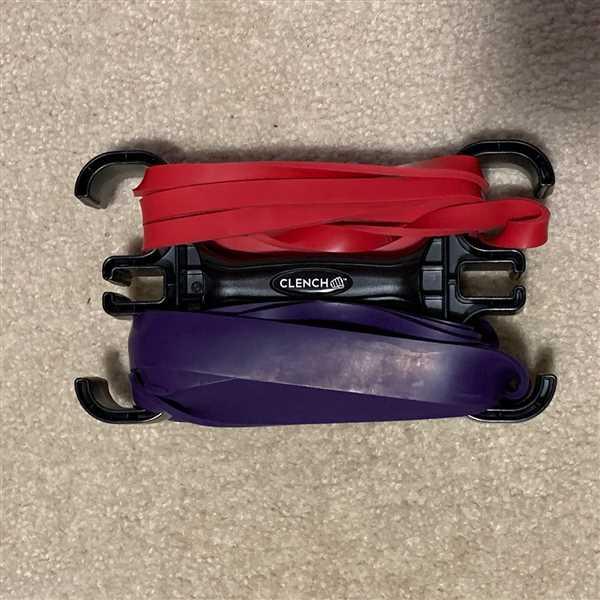 02/01/2020
Mark T.
Pelotas, Rio Grande do Sul, Brazil
A new dimension
My handles arrived yesterday, put them to the test today. Good quality, solid plastic and also lightweight (very important). Where I had just been grasping my bands with my hands, I wrapped them around the handles. Nice. Added a new dimension to my exercises, causing muscles to work in another plane. But, being a novice with these handles, it's going to take a while using them to their full capabilities.
01/17/2020
Lori B.
Overland Park, Kansas, United States
Absolutely love this!
I'm so glad I ordered this. This is so handy to have for all band workouts. If you incorporate band exercises in your workouts routine, then you will definitely be happy to have this to go along with it. It's very functional and can bd used in so ways.